Choosing the Best Membership Management Software for Your Gym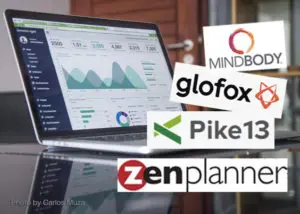 Gym management platforms have come a long way in recent years, offering innovative solutions for managing and marketing gyms. There are many platforms out there to choose from, but which one is the best for your gym? Here's a comparison of the top 5 gym management platforms to help you decide.
ZenPlanner: The cloud-based platform offers online membership registration and mobile app integration for ease of use. It also includes automated billing and payment processing, plus the ability to track attendance and set up waitlists. Additionally, there are a variety of options available for marketing services such as email campaigns and text message reminders.
Pike13: A user-friendly platform with features such as class scheduling, billing, reporting tools, and integration with social media platforms like Facebook and Twitter. It's also great for employee scheduling and automating communication with members. Plus, it can be easily integrated into most existing systems and websites.
Mindbody: This comprehensive platform not only streamlines operations but also helps manage staff resources in terms of payroll tracking, performance evaluation, team member training programs, etc. It offers some advanced features such as customer relationship management (CRM) tools that help grow your business by personalizing messages based on customer data.
Gymcatch: This cloud-based software has powerful features including an integrated eCommerce system for purchases within the platform itself; comprehensive staff scheduling; appointment booking capabilities; payment gateway support for online payments; analytics; and more.
Glofox: This all-inclusive tool is tailored towards small to medium sized gyms or studios who want control over every aspect of their business operations – whether that's nutrition programs or group class programming or wellness coaching – Glofox has you covered! With its cloud-based automation system it simplifies processes like booking classes, managing memberships and payments while allowing users access to real time data from anywhere at any time through its native app or browser platform.
When it comes to choosing software for your gym business, it's important to find a solution that is both user-friendly and provides valuable insights into the health of your business. A good gym management platform should be easy to navigate and intuitive to use, so that your staff can quickly and efficiently manage class schedules, member accounts, and other important tasks.
Equally important, the platform should provide real-time data and analytics about your business, so that you can get a snapshot of how things are going at any given time. This might include metrics such as class attendance, membership retention rates, and revenue trends. By having this information at your fingertips, you can make informed decisions about how to grow and improve your business.
Overall, the right gym management platform should make your life easier, not harder. By choosing a solution that is user-friendly and provides valuable insights into your business, you can streamline your operations and focus on what you do best: helping your members reach their fitness goals.